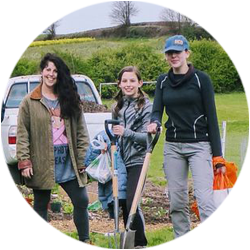 About Skeet and Sadeh

Sadeh is the UK's Jewish farm and environmental community. Rooted in Jewish values, Sadeh promotes positive environmental change through cultivation of the land and environmental education.

Sadeh's retreat centre (Skeet Hill House) was originally purchased for the Brady Boys' Club in 1943 by the Jewish Youth Fund as a place of respite from the doodlebugs and the war-torn East End of London. The house and grounds are steeped in Jewish history and it is a true communal asset, catering for people across the Jewish spectrum.
The centre can be booked for most weekends and weekdays throughout the year including during the school holidays.

Facilities
Only 1 hour from London and 1 million miles away, Sadeh farm has 25 beds across 5 family suites and double rooms. In the grounds there is a vegetable farm, Havdalah garden, orchard, chickens, tennis court and a heated indoor swimming pool.
For more information about Sadeh and the farm visit www.sadehfarm.co.uk.